Stafford Tech to complete 15th home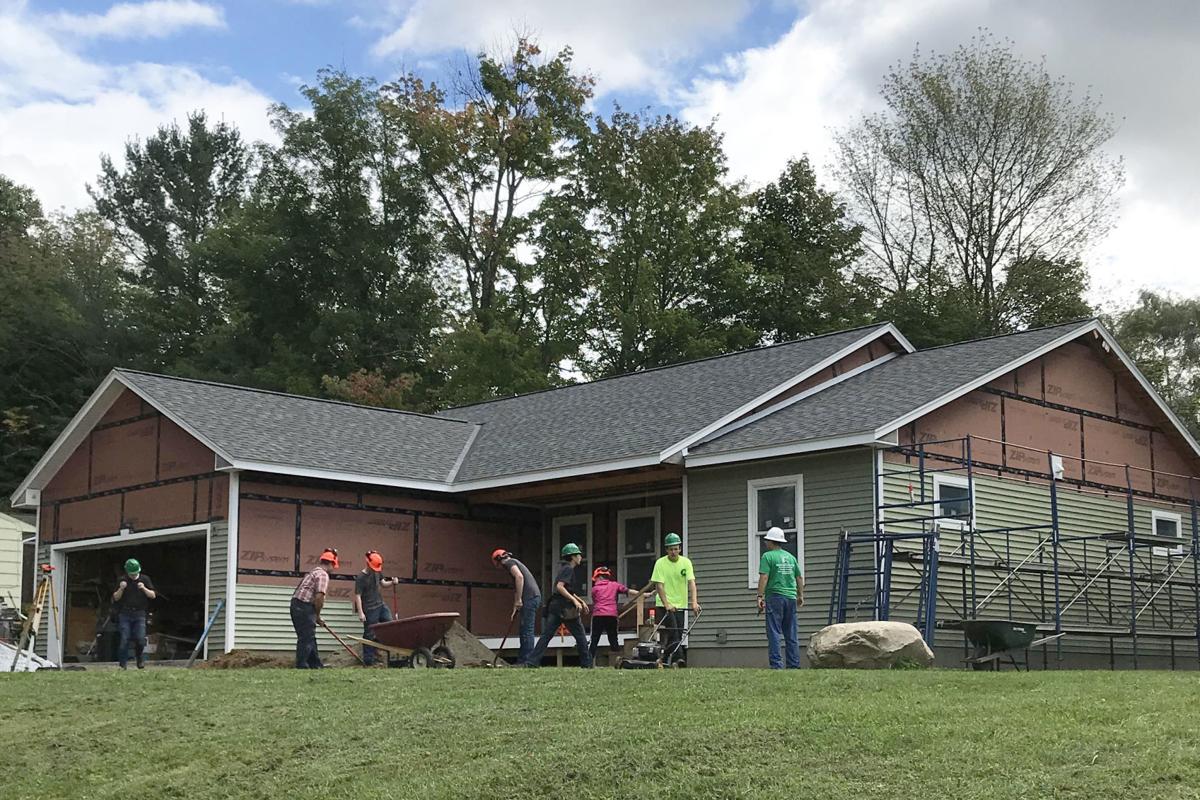 Three programs, three professors, three years: Students at Stafford Technical Center are slated to complete the construction of their 15th house, which is slated to go on the market within the next six months.
"On average, we do one every two years," said Jeff Fowler, director of Stafford Tech's Construction Technology program. "In the city roll we added over $1 million in total in tax revenue."
City Assessor Barry Keefe said the city's combined tax rate has benefited from Stafford Tech's program that started in the late 1980s.
"There is absolutely no downside to this program," Keefe said in an interview Monday. "They get the seed money, build on a couple of lots, sell to a private entity and get the proceeds, and they put the proceeds back into the next project."
Fowler said every project begins with money loaned by Rutland City Public Schools to the Student Craft Corporation — a collaboration started by a group of instructors at Stafford Tech in the 1980s — to buy a parcel of land in Rutland where students in their Forestry, Plumbing and Electric, and Construction Technology programs could combine their skills and build energy efficient houses to sell at fair market value.
"If you see the work the kids do, it's above average," Keefe said. "They have faculty members supervising their work, so if they make an error, and if they don't do things right, they take it out and replace it. In the private sector, you can't do that … All the kids are learning marketable skills, so when they graduate, they can become plumbers and electricians."
Once the house at 20 Giorgetti Blvd. is sold, the revenue pays back the initial loan from Rutland City Public Schools, with the difference funneled back into the program, Fowler said.
Their newest endeavor: a three-bedroom, single-level home with a porch, a back deck, a sweeping basement, two bathrooms, custom cabinetry and tiling, olive green vinyl siding, a rain garden, a concrete walkway, two-car garage — all on a 0.25 acre parcel of land.
"We're looking at a $250,000 (value)," Fowler said. "We've had so much interest in the house, we're hoping for a bidding war."
For three years, a combined 45 students from the three programs at Stafford Tech spent an average of three hours a day building the house, from the foundation to the shingles, and construction is slated to finish in about two months, Fowler said.
"We build the interior and exterior walls, stack them up, and bring them to the site," Fowler said. "We look for location in relation to school travel time in the city of Rutland, so we can connect to our own water systems."
Mark Raishart's Natural Resource classes rework the landscape, increasing the property value so the program can reap more financial benefits once it's done.
"We did pavers, installed a concrete sidewalk in the front … it's challenging to coordinate that many students, but it's like a real building job. It's just exacerbated when you have 45 kids there," Raishart said.
"We made the rain garden, and the walkway, cleared a bunch of stuff in the backyard of the house," said Devon Bussard, a senior in the forestry program.
After construction is finished, the plumbers in Chris Tooley's Electrical and Plumbing program will swoop in to finish the sinks and faucets.
"They're really excited to go out to the house," Tooley said.
"I've been the city assessor for 25 years," Keefe said. "I was here when they built the first house on Phillips Street. It's a poster boy for programs like this all across the state … the city will buy a lot, put a house on it, and while they're doing that they don't pay any taxes. When they sell it, the new party, that goes on the tax rolls."
Keefe said the houses add several million assessed-value dollars to Rutland's grand list, bringing taxes down for the rest of the community.
"Getting to see the house slowly come together, see our hard work slowly pay off is pretty cool," said Proctor student Dylan Scott, who started in the program as a forestry student and now is completing the house with his classmates on the construction technology side. "I did more interior work, did shelving for the laundry room, painted the walls, extension jams for the windows, caulking for the windows, sheetrock mud in the basement and sheetrock in the stairway."
Scott said he plans on taking over his grandfather's construction company, Scott Construction out of Crown Point, New York, with the knowledge gleaned in Stafford's programs.
"This reinforced a lot of the construction skills, so I can do really good quality work, expand my business and attract customers," Scott said.
Rutland junior Andrew Ebbighausen said he grew up helping his father, who built homes as a side job.
"This was something I already knew how to do," Ebbighausen said. "It's good to know to pull in extra side cash."
"They replace a retiring workforce," said Cindy Dunigan, outreach coordinator for Rutland City Public Schools. "They build the houses according to the community, and don't build beyond the community."
The experience, Fowler said, lasts through generations of Rutland County students, who are proud to come back and say they built a new piece of Rutland that will last hundreds of years and keep new families warm and dry.
And with the completion of 20 Giorgetti Blvd., Keefe and Fowler said they're on the lookout for their next parcel in Rutland.
"We're building legacies," Fowler said. "We build real houses for real people and sell them for real money."
["source=rutlandherald"]
Tagged:
15th
complete
Stafford
tech
to