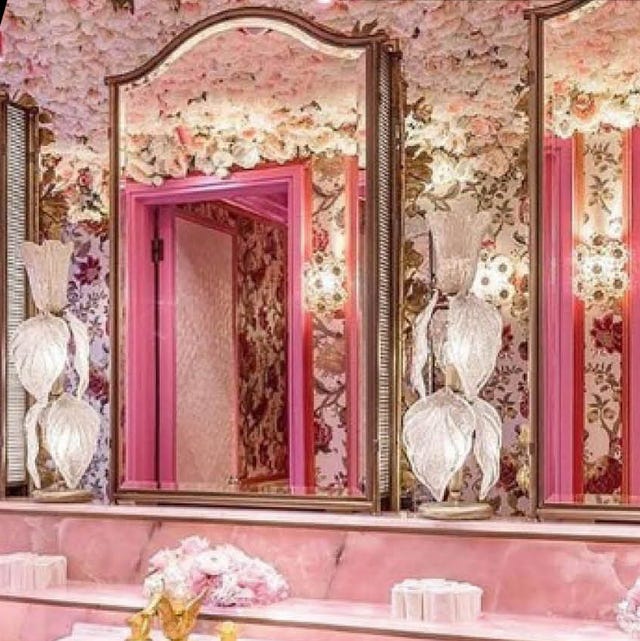 While we love going out to the latest popular bar or the restaurant with the most delicious menu, a good bathroom doesn't go amiss. By analysing some 40,000 Instagram posts from the most talked-about places in London over the last 12 months, Fragrance Direct has found the most popular bathrooms in the capital. These are some pretty covetable toilets…
MORE
1,853,634 likes – 40% bathroom pics – 1448 pics taken per month
Sketch is already an Instagrammable must-visit for the food, drink, music and art – with each room having a different theme – but the Michelin-starred location is perhaps most recognisable for its toilets, with the unisex bathrooms being home to alien-like pods, rainbow-tiled ceilings and bright white walls. In fact, 40 per cent of all Instagram photos taken in Sketch are of the loos – that works out at an average of 90 photos per day, with likes surpassing 1.8 million.
MORE
575,755 likes – 11% bathroom pics – 352 pics taken per month
One of the most elegant and exclusive spots in Mayfair, the members-only club Annabel's boasts the most beautiful floral bathrooms. With a flower-print wallpaper, those swan taps and pink roses that hug the ceiling, it makes up a total of 11 per cent of Instagram posts in the location, generating more than 575k likes over a typical two-month period. It's all in the details here.
MORE
105,272 likes – 17% bathroom pics – 109 pics taken per month
Asian restaurant Sexy Fish is one to visit if you're a big fan of art. From its 13ft crocodile installation by Frank Gehry to the aquatic-themed Damien Hirst sculptures – and not forgetting the food being a work of art itself – Sexy Fish is full of diners with a camera in hand. But the aesthetics don't stop there, as their marble-covered bathrooms are a sight to behold. 17 per cent of all of restaurant's tagged pictures on Instagram are taken in the toilets, one of the highest percentages to make the list. An average of seven photos are taken in here every day and have generated more than 105,000 likes.
MORE
52,944 likes, – 207 bathroom pics – 104 pics taken per month
Decorated with a nod to 1920s style, The Ned is a firm favourite on Instagram when it comes to interiors. The part-members club is situated in the heart of the city and features nine restaurants; a state-of-the-art gym; indoor and outdoor pools; and, of course, an aesthetically pleasing powder room. The main ground-floor bathroom features chic black and white checkered floors and a three-person velvet kissing seat. The centrepiece is the perfect place to perch for a bathroom snap.
MORE
80,963 likes, 99 bathroom pics – 50 pics taken per month
One of London's most famous hotels, The Ritz, has attracted 80,963 likes across a two-month period, working out at nearly 50 pictures taken in the bathroom each month. The hotel, famous for its indulgent afternoon tea and world-class service, has the prettiest ladies loos decorated in pink and white and featuring an abundance of flowers.
["source=harpersbazaar"]
Tagged:
Bathrooms
five
In
Instagrammed
London
most
The